Universal Forest Products Reports 4th Quarter Annual Results
&nbspMonday, March 2, 2015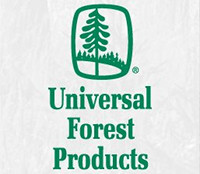 Universal Forest Product announced 2014 result, including fourth quarter net sales of $620.1 million, up 17.9 percent over the results for the fourth quarter of 2013. Net earnings attributable controlling interests in the fourth quarter of 2014 were $9.3 million, or $0.46 per diluted share, up 16.5 percent over the same period of 2013. The Company reported 2014 annual net sales of nearly $2.7 billion, a 7.7 percent increase over the previous year, and 2014 annual net earnings attributable to controlling interests of $57.6 million, or $2.86 per diluted share, up 33.6 percent over 2013.
"Our people continue to impress with their results. Although 2014 started slow, we were able to finish strong with double-digit growth in both sales and profits," said CEO Matthew J. Missad. "We are seeing growth both with existing customers and with new customers as we continue to build our new product pipeline. I'm pleased that our focus on bringing new products to market resulted in approximately $150 million in new product sales in 2014." He added.
For the fourth quarter of 2014, the company saw double-digit sales increases in each of its markets. The result reflected an increase in overall unit sales of 14 percent and an increase in commodity prices that impacted selling prices by four percent. Acquisitions made during the quarter contributed to sales growth, particularly to the industrial market.
Tags: quarter annual result, universal forest product