US Forest Size Will Increase, Study Finds
&nbspTuesday, February 10, 2015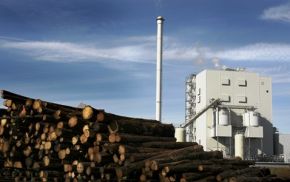 Europe's demand for wood pellets to generate renewable bioenergy will lead to an increase in US forestland in timber exports rise, according to U.S Forest Service Scientists. A new study finds that policies in European Union, and elsewhere requiring the use of renewable and low green house gas-emitting energy are driving demand for wood pellets used in the generation of biomass energy.
This demand could provide lucrative new markets for US timber exports, increase wood prices, and lead to substantial increases of forested areas. This alternative scenario accounted for continued bioenergy demands based on the most recent projections of wood consumption by pellet mills and other bioenergy producers. These projections include all announced bioenergy wood demands, and while actual demands will likely be lower, there is considerable uncertainty in the bioenergy market.
There are studies underway by the EU Environment Agency on the effects of the Renewable Energy Directive on the sustainability of southern forests. If new requirements are adopted, this could affect use of southern forests for pellet production for export to the EU. All indications are that pellets from southern forests will meet the current EU requirements.
Tags: u.s forest service