USNR merges with Wood Fiber Group
&nbspThursday, March 24, 2022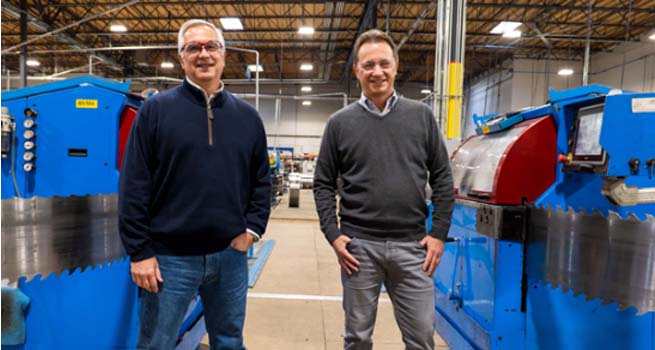 With the announcement of the merger of USNR and Wood Fiber Group, the synergies are becoming clearer and gaining focus, though the full impact of this combination has yet to be realized!
A brief on what the Craig Tompkins and Dale Brown, leaders of the combined company, has to share as their vision for the future.
"The combined companies' reputations for quality, integrity, innovation, technical service, and value are well aligned and a great cultural fit. The combination will provide better customer coverage and improve our ability to serve the market. The most exciting part of this merger is the opportunity it will create not only for our employees but our customers. Contrary to most merger and acquisition activity where companies have overlapping operations and products, our combination is complementary with adjacent rather than overlapping submarkets. Coming together we immediately become the most comprehensive supplier in our industry with the ability to provide our customers with everything from the equipment to all of the parts, consumables, and filing room equipment necessary to produce the highest quality products. Beyond where we are today, the greatest future opportunity is to define what we could be rather than what we are now. Both of our businesses are technology leaders in our individual submarkets, and our opportunity is to integrate these technologies to create new products that provide even higher quality and greater throughput for our customers", pointed out Craig Tompkins!
Speaking about major benefits for customers of both companies USNR and Wood Fiber Group, Dale Brown remarks,"Many customers are common to both entities. This new relationship will foster easier access to equipment, parts, consumables, service, and more.On the technical side, we now offer an even wider depth and breadth of knowledge and experience in the solid wood, panel, and secondary wood processing sectors.
As a combined company of USNR and Wood Fiber Group we have incredible industry expertise in all facets of what it takes to supply the best wood processing operations in the world. It is our mission to ensure that our customers always recognize and appreciate our role as a critical business partner to their future success."
Tags: Craig Tompkins, Dale Brown, merger, USNR, wood, wood and panel, Wood Fiber Group, Wood Industry, wood technology