USNR showcased its best at the Forest Products Expo
&nbspTuesday, September 12, 2023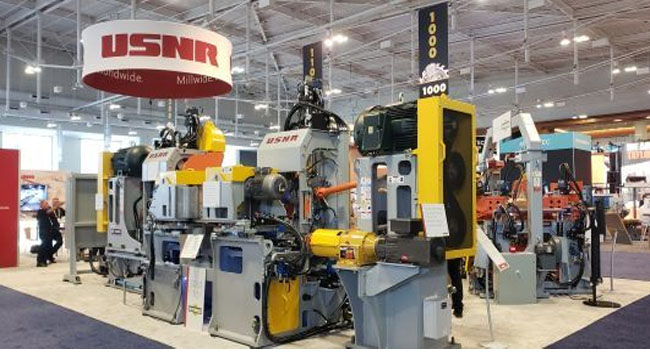 USNR one of the world's largest and most comprehensive suppliers of equipment and technologies for the wood processing industry had a great show at the Forest Products Machinery & Equipment Expo in Nashville. It was a successful show for the company where they showcased some of the latest technologies that help in responsible manufacturing and sustainable business.
At the Forest Products Machinery & Equipment Expo in Nashville, USNR showcased various innovations that include the Sidewinder log turner and log profiler to the visitors who visited its booth.
Shedding some light on the showcased innovations-
• The Sidewinder delivers accurate log rotation, and precise transition control with smaller gaps between logs, maximizing throughput for mills. It's specifically designed to handle heavy–duty logs from Southern States and short knotty logs from Canada. USNR's advancements in optimization have modernized the Sidewinder and created one of the best profilers log-turning systems on the market.
• USNR's powerful new log profiler is one the world's most advanced primary breakdown log profiler that permits more volume through the mill while capturing equal recovery and relieving bottlenecks at the edger. The horizontal arbor profiler consists of one right and one left side profiling module assembly, each housing two chip heads and mounted to a solid base. Each carriage shifts in/out to properly position the chip heads horizontally for the width of the log; each chip head also shifts up/down via hydraulic cylinders.
The Forest Products Machinery & Equipment Expo in Nashville is one of the perfect places where the booming forest products industry comes together. It opens scopes for the development of prospective communication and connections. The company, USNR has also made the best use of the opportunity while enjoying the growth of connections from across the country.
Tags: USNR, wood, wood and panel, woodworking, woodworking and manufacturing, woodworking event, woodworking industry, woodworking USA