Venjakob to display Wo-Tech roller coater at WMS 2023
&nbspTuesday, September 5, 2023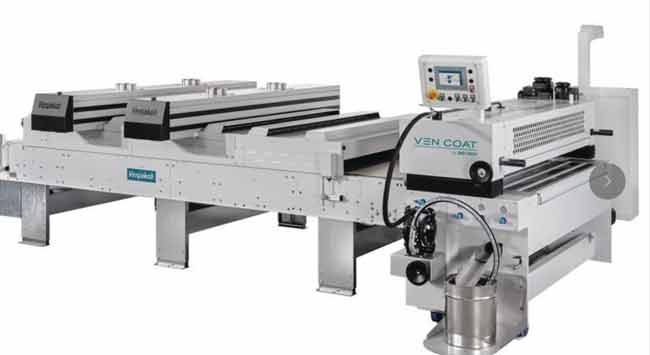 Venjakob North America, a specialist in surface coating, will showcase cost-effective applications for roll coating and curtain applications at the Woodworking Machinery & Supply Conference & Expo.
Venjakob represents Wo-Tech roller and curtain coating equipment, which is well suited for finishing flat components such as doors and panels comprised on various materials. Venjakob notes that the advantages of roller coating, such as the Wo-Tech Ven Coat, include reduced coating consumption because of the ability to achieve 100% application efficiency. Curtain coating, meanwhile, offers the ability to applying higher coating thicknesses to a substrate.
Wo-Tech roller and curtain coaters can be complemented by other Venjakob finishing equipment to create a complete customized solution.
Venjakob North America is the Canadian subsidiary of Venjakob Maschinenbau GmbH & Co. KG, with headquarters in Germany.
WMS is world-renowned as Canada's preeminent industrial woodworking event. For more than four decades, WMS has connected Canada's woodworking professionals with the world's most prominent machinery manufacturers and suppliers. Last held four years ago due to the Covid-19 pandemic, WMS 2019 attracted attendees from nine Canadian provinces and two territories.
Tags: surface technology, venjakob, wood, wood and panel, woodworking, woodworking and manufacturing, woodworking event, woodworking industry, woodworking USA