Vollmer introduces successor of the saw sharpening machines
&nbspMonday, August 8, 2022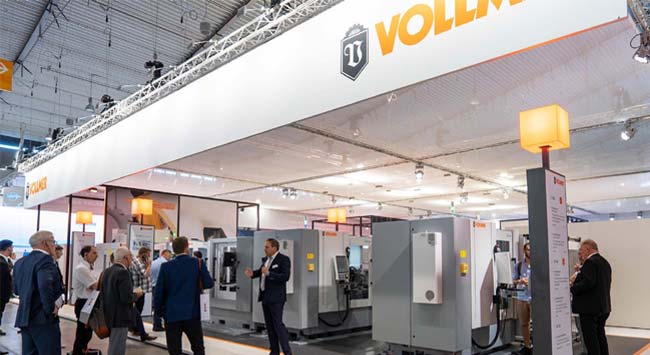 Vollmer introduces two new sharpening machines CS860 and CSF860. The company has good reputation for introducing sharpening machines in the market frequently and this time it with these saw blades sharpening and servicing machines the company has created a far more advanced blade cutting companion.
To celebrate the launch of the latest generation machines, Vollmer's product manager Thomas Wenger has discussed about CSF860 technology for side grinding saw blades in detail.
The Product Manager for carbide Saws who is a seasoned expert for 24 years of service in Vollmer discussed the concept behind this machine in following words "The CHD and CHF machines were based on a completely different construction to our new technology. The CHF side grinding machine was designed in 2000 and we evolved this machine until we reached the limit of what could be achieved with the existing construction. Now, with a new foundation, new drives and software technology – we can add new benefits for our customers."
The CSD860 is 2 to 4% more productive than the previous CHF270. It is a result of machine kinematics and design that has been devised to be extremely unique. With the technology saving 20% of time is possible. Infenius software updates precisely calculating the grinding area and eliminate the 'air cutting' is extremely easy in these CSF860.
The new saw carrier and R2 axis for flange management system is capable of eliminating 10 to 15 minute changeover times that is usually expended in the saw changing position. The machine is capable of eliminating 2 to 3 minutes per saw blade expenditure. The calibration system – it is a system that eradicates the 25+ seconds of non-productive grinding wheel that is spent by calibrating and checking.
Vollmer has really taken the new CSF860 side grinder to the new stratosphere. Besides this there is the integration of IoT and software advances, the customer will enjoy huge gains. The results are quite compelling than existing machine CHF270 which is the predecessor of the new releases. From the words of Thomas Wenger it can be stated that Vollmer is planning a sustainable and technologically sound future ahead.
Tags: sharpening machines, Vollmer, VOLLMER America, woodworking, woodworking and manufacturing, woodworking industry, woodworking USA