VOLLMER reports a successful appearance at GrindTec 2016
&nbspWednesday, April 13, 2016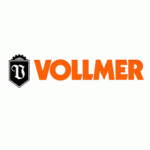 The recently concluded GrindTec 2016 trade fair, held from March 16 to 19, saw grinding and eroding machines specialist VOLLMER making its tenth appearance at the show this year. GrindTec is the ideal platform for the company to display its latest grinding and eroding machines as well as automation solutions, which can be used to machine tools and circular saw blades.

VOLLMER and its subsidiary Loroch alone welcomed thousands of guests to their two trade fair stands. The trade fair visitors found out about VOLLMER's entire range – starting with the machines through to services relating to training, financing, maintenance and repair. At Loroch's trade fair stand, visitors were particularly interested in the Evolution K 850 M and Solution K 850 T sharpening machines.

At VOLLMER's trade fair stand, the focus was on a new variant of the Vgrind 160 tool grinding machine. The prototype presented has one spindle instead of two and features integrated tip groove grinding technology for diamond tools. The single-spindle Vgrind 160 model will be available at the end of the year. The new automation solution for the Vgrind 160 also impressed visitors: The HPR 250 free-arm robot increases autonomy and efficiency when manufacturing tools and makes it possible to automatically produce tools with different shaft diameters.

At the beginning of the GrindTec 2016 trade fair, VOLLMER was honoured for being an early pioneer of the fair by event organiser AFAG and sponsoring association FDPW. The Swabian specialist for grinding and eroding machines was present at the very first GrindTec back in 1998.

The "Tool grinder of the year" competition, organised by VOLLMER in association with the FDPW Academy and the German trade journal "fertigung" ("manufacturing"), was held in 2016 for the first time using a Vgrind 160 with a double spindle. Five cutting tool mechanics went head-to-head in the final at GrindTec and produced a pre-specified precision tool using the Vgrind 160. 32-year old Roberto Krech won the competition.

Dr.-Ing. Stefan Brand, CEO of the VOLLMER Group said, "We are very pleased with how GrindTec went – in addition to being honoured, the large number of visitors and the tool grinder competition, our trade fair stand was very popular. We have our finger on the pulse with our motto 'Dialogue on precision', as communication is becoming increasingly important in tool construction – not only discussions with customers, partners or staff, but also digital data exchange between humans and machines."
Tags: appearnce, automation, eroding, grinding, GrindTec, loroch, machines, prototype, solutions, specialist, spindle, technology, trade fair, Vgrind, Vgrind 160, visitors, Vollmer