WEIMA advances waste management in American woodworking industry
&nbspMonday, November 28, 2022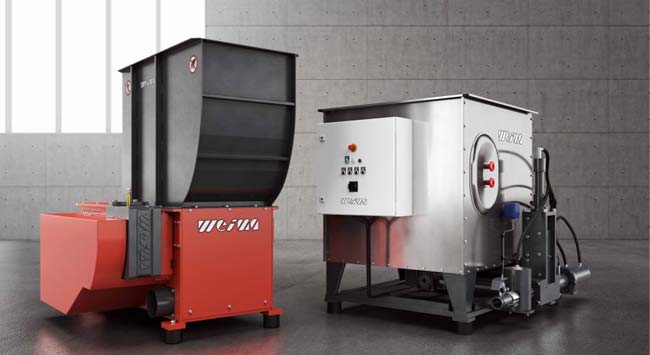 WEIMA introduces small but mighty shredders to American woodworking industry. The wood industry is where it all began for WEIMA's size reduction machinery. Since then, the machinery has evolved along with the industry to process a variety of wood waste, including hardwood, softwood, veneer, MDF, plywood, skeletons, dust, shavings, and more! WEIMA recently featured shredders and briquette presses in their booth at the International Woodworking Fair (IWF) in Atlanta in August, 2022!
Hopper-fed shredders have a range of infeed dimensions so that even the bulkiest of materials, including furniture pieces or plywood panels, can be introduced into the shredder without pre-cutting the material. For smaller materials WEIMA offers many single-shaft shredders with smaller infeed hoppers, including the WEIMA Woodchuck.
Linear waste is ideally shredded using a horizontal wood grinder that can be placed near a CNC machine or table saw, which is creating the waste material. The linear wood waste can fall directly onto an infeed conveyor for hands-off shredding. WEIMA's horizontal wood shredders are ideal for processing window profiles, skeletons, rippings, and other kinds of linear wood waste.
This line of machinery includes the Beaver 400 and the Horizontal Beaver 300, as well as the Tiger 600– all of which was displayed in the WEIMA booth at IWF!
WEIMA Horizontal Beaver 300 shreds panel scrapThis Horizontal Beaver 300 is equipped with a vibrating infeed conveyor, which allows scrap wood to consistently advance toward the rotor for optimal throughput.
Small but mighty
WEIMA's C 150 briquette press is a compact machine for small and medium-sized companies. It can transform loose wood chips and dust into round briquettes with a diameter of 50 mm. No adhesives or binders are used in any WEIMA briquette presses– only hydraulic pressure.
Connecting this briquette press to a pre-existing air system is easy via a rotary air lock. This feature, along with the fill sensor within the hopper, means it can be set to run without operator present. When the hopper reaches a certain fill height, it can turn itself on automatically. When the material in the hopper drops below that level once again, the briquette press will resume standby mode.
Recently it was seen that this machine compressed wood chips in the WEIMA booth at IWF 2022.
Tags: 2022, IWF Atlanta, WEIMA, woodworking, woodworking and manufacturing, woodworking event, woodworking fair, woodworking industry, woodworking USA