WEINIG HOLZ-HER USA to showcase their latest at IWF 2022
&nbspWednesday, August 3, 2022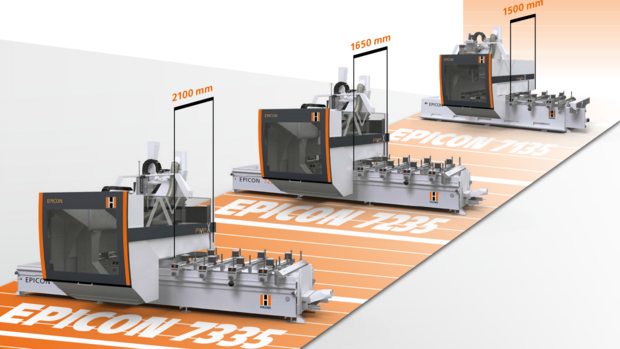 Weinig Holz-Her USA is gearing up to showcase their latest innovations at IWF Atlanta. They are even sponsoring the Beer Garden, a spot to relax, refresh, and connect with other attendees and exhibitors from August 23 to 26. Weinig Holz-Her USA, thus, aim at turning the networking and exploring Live machines experience into a memorable one, as the American industry gears up to meet once again at the show floor after the pandemic induced break.
Among innovations from the Weinig brand is a new, smaller model 7135 version of its Epicon 7235 machining center as well as an extra-large Epicon 7335, to form a new complete range of 5-axis CNCs with console tables. The Epicon series offers an enormous machining height of 300 mm (11.8 inches), which is ideal for five-axis machining.
At IWF 2022, Weinig will exhibit the latest technology in moulders, grinders, rip saws, optimizing crosscut saws, finger-jointing systems, scanning solutions, and an integrative manufacturing software platform driven by EnVision and MillVision offering fully integrated production planning and product design control.
Weinig moulders offer efficient operation using Powerlock quick-change technology—suited for lean manufacturing environments. PowerLock enables speeds up to 12,000 rpm, twice the feed speed of conventional machines. The tools can be changed in seconds, enabling shops to double their linear production per day, cut unit costs, and shorten delivery times.
The new Weinig R1000 is the latest in moulder profile grinding technology. When used in conjunction with the Weinig System Plus, a 2016 Challenger's Award Finalist, the R1000 offers an automated and efficient method for preparing knives in the industry. It grinds and sharpens tools automatically according to a CAD drawing created by Moulder Master providing the basis for producing accurate profiles on the moulder.
On the Holz-Her side of Weinig Holz-Her, an entry among the IWF 2022 Challengers Award finalists is the SafeDetect Radar System for CNC machines. Holz-Her will also show the latest Ltronic Technology for laser edgebanding, using NIR (infrared) energy to achieve zero glue line with no hot air, noise or heat-up time. Ltronic was a 2016 Challengers Award Finalist. Also being shown is the MultiTool System which enables full tool changes on all working units of the new Accura edgebander series (detail shown above). Users can run true 1 mm, 2 mm, 3 mm, straight and bevel tooling, with automated changeovers in seconds. MultiTool was also a 2016 Challengers Award Finalist.
Tags: georgia, IWF Atlanta, WEINIG HOLZ-HER, woodworking and manufacturing, woodworking event, woodworking industry, woodworking USA