Weinig presents machines on wheels at WMS 2019
&nbspTuesday, October 29, 2019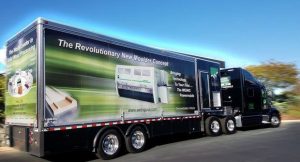 Weinig to present machines on wheels for the first time with PowerMobile at WMS 2019 from October 31 to November 2. Manufacturer of ripsaws and other woodworking equipment, Weinig is gearing up to showcase the PowerMobile, a semi-trailer shop on wheels at WMS 2019. The PowerMobile will be parked outside the main entrance of the International Centre during the Woodworking Machinery & Supply Conference & Expo.
At the shop on wheels there will be a continuous demonstrations including a Weinig Powermat 700 moulder and a VarioRip 310 ripsaw. The Powermat 700 moulder features automatic positioning of the spindles and the patented PowerLock system, which Weinig says it help in improving machine functioning quicker, easier and safer. The moulder also incorporates Comfort Set allowing for a number of wrench-free adjustments for pressure and guiding elements to be "performed quickly, accurately and without error," the company adds.
VarioRip is a compact machine that according to Weinig, is ideal for small- and medium-sized operations. It can be used as a multi-blade or optimizing ripsaw. The VarioRip 310 features Weinig's patented Quickfix quick clamping system to facilitate fast tool changes.Besides this, Taurus Craco, exclusive distributor of Weinig-Holz-Her in Ontario, will exhibit several of the company's other machines at WMS booth #2605.
News and Image Coutersy- woodworkingnetwork
Tags: Powermat 700 moulder and a VarioRip 310 ripsaw, PowerMobile, shop on wheels, weinig, WMS 2019