WMS Canada 2023 is back
&nbspTuesday, January 17, 2023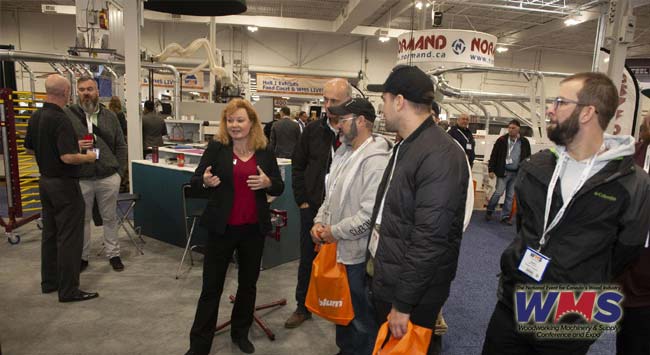 Canada's premier woodworking event, the Woodworking Machinery & Supply Conference and Expo returns live and in-person to the International Centre in Mississauga in November 2-4. Cancelled twice due to Covid in 2021 and again in 2022, it is all systems go for WMS 2023, according to Harry Urban, WMS Show Manager. "Obviously we are champing at the bit to get back to business and so are our exhibitors," said Urban.
He said exhibit sales have been brisk and the majority of past exhibitors have returned with equal or increased booth space. "Despite some softening in the economy, the woodworking industry in Canada is still going strong," said Urban.
In addition to exhibits, WMS 2023 attendees will be treated to a host of complimentary educational sessions and keynotes on the show floor at WMS Live stage. More than a dozen sessions will be presented, including two keynotes and sessions sponsored by the Wood Manufacturing Cluster of Ontario as well as WMS exhibitors and other associations. Luke Elias, president of Muskoka Cabinet Company in Alfred, On. will be the featured keynote presenter on November 2.
WMS is world-renowned as Canada's preeminent industrial woodworking event. For more than four decades, WMS has connected Canada's woodworking professionals with the world's most prominent machinery manufacturers and suppliers. WMS 2019 attracted attendees from nine Canadian provinces and two territories. The 2019 edition featured 75,000 square feet of exhibit space and more than 175 exhibitors. 
"We were devastated by COVID 19's mandated lockdown. We had already moved the event to February 2022, and we couldn't have done it without them. WMS 2023 will continue to be strong despite the challenges posed by the pandemic," stated Tim Fixmer, president & CEO of CCI Canada organizers. "We are grateful for the loyalty and dedication of many exhibitors who worked with us in confirming their space for 2023. We look forward to staging Canada's largest professional woodworking event." Fixmer stated that exhibitors will be provided with updated information regarding the 2023 event as soon possible.
Tags: 2023, canada, WMS 2023, woodworking and manufacturing, woodworking Canada, woodworking event, woodworking industry, woodworking USA