Woodpeckers introduces new QuickLift and QuickLift HDS
&nbspWednesday, November 1, 2023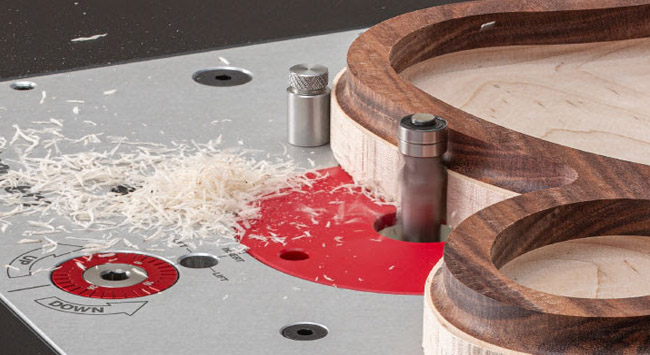 Woodpeckers introduces the new QuickLift and QuickLift HDS for modern workshops. These new lifts combine the best features of some of the previous models designed by Woodpeckers. These are the first to combine Woopeckers patented quick-lift feature with crank style micro-adjustment.
One can instantly lift the collet above the table for bit changes and make coarse adjustments just as fast with the spring-assisted QuickLift Wrench. Then with fine tune the bit position with a comfortable crank handle and an easy-to-read 1/32″ per revolution rotary scale. The HDS model adds a precision-ground steel plate and steel twist lock rings. This tank-like router lift will last for decades and the steel lets you use convenient magnetic feather boards.
Individual workability-
QuickLift HDS has a Blanchard ground steel plate that works with magnetic feather boards. The twist lock rings for the HDS are also machined from steel. The HDS brings more durability and stiffness to the job. On the other hand, if you're using the same router in your table and for hand-held work, the aluminum QuickLift weighs less and maneuvers in and out of the table easier. Other than the material the plate and inserts are machined from, the two lifts are identical.
Functioning of the tools-
The re-designed QuickLIft Wrench disengages the elevation screw with a simple quarter-turn (either direction). The spring on the shaft of the wrench counteracts the weight of the router allowing fingertip adjustment up and down. Bringing the collet all the way up for a bit change takes just seconds. After the changing bits, one can lower the router to approximate position just as desired.
Drop the crank into the "bullseye" and its ready to fine tune the height of the bit. The red dial rotates one full revolution each 1/32″ and is divided 32 times, making each mark .001″. The scale is friction fit onto the crank housing, so that onbe can rotate it to set zero.
Three locations are provided for the Starting Pin, allowing to ease the cuts on contoured workpieces. The same threaded holes can be used to mount Woodpeckers Freehand Guard.
Another new feature on the QuickLift secures the lift to the router table. Rather than strictly relying on gravity, the QuickLifts have two thumbwheels that clamp the plate into your table. Eight set screws in the perimeter of the plate allow one to level the lift perfectly to a table. Then just a spin up thumbwheels can lock the lift in place.
Tags: Quicklift, wood, wood and panel, Woodpeckers, woodworking, woodworking USA