Woodpeckers introduces Ultra-Shear Router Bits
&nbspTuesday, January 10, 2023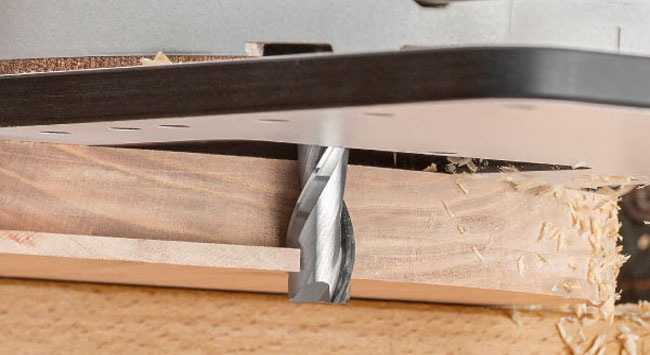 Woodpeckers has launched state-of-the-art CNC grinding equipment, the highest quality solid carbide blanks and ultra-fine grinding wheels to produce American-made router bits at extremely competitive prices. Four of the most practical straight bits ever created are included with the Ultra-Shear Solid Carbide Router Bits. 1/2″ straight bits in cut lengths of 1-1/2″ and 2," both up-cut and down-cut grinds. These are some of the most adaptable straight bits you may use, whether you're using a CNC, a trammel, an edge guide, a router table, or another type of horizontal router system.
Made in USA
Long cut length is necessary for mortise and tenon work, especially through-mortise joints. This tool's 2″ cut length bits are included as part of its launch. These bits are ideal for CNC machines and horizontal routers like the Multi-Router and PantoRouter because they have a generous cut length and are kept to very stringent tolerances for dimensional precision. Up-Cut bits are more efficient in removing the chips from the kerf. They are a fantastic option for solid wood dados, slots, and full-edge cutting. Down-Cut pieces slice into the material from underneath, preventing the lifting of surface fibers. This is especially crucial for cabinet-grade plywood, which is also an excellent option for rabbeting. Even the thinnest surface veneers can benefit from a super clean edge provided by a down-cutting bit.
The cherry on the top is that like all Woodpeckers products, Ultra∙Shear Solid Carbide Bits are also made right in the Strongsville, Ohio facility just south of Cleveland, that is, they are all Made in USA.
Woodpeckers designs innovative woodworking tools and their products are all USA made. The business employs a team of committed engineers that are always working to increase shop productivity. Squares, woodworking rules, T-squares, and other layout tools of the highest calibre are made by Woodpeckers.
Read more news on Woodpeckers
Tags: CNC, CNC grinding equipment, made in USA, router bits, router system, wood, woodworking, woodworking and manufacturing, woodworking event, woodworking industry, woodworking USA