Woodpeckers introduces Ultra-Shear's new Carbide Insert Spoilboard Bit
&nbspTuesday, September 12, 2023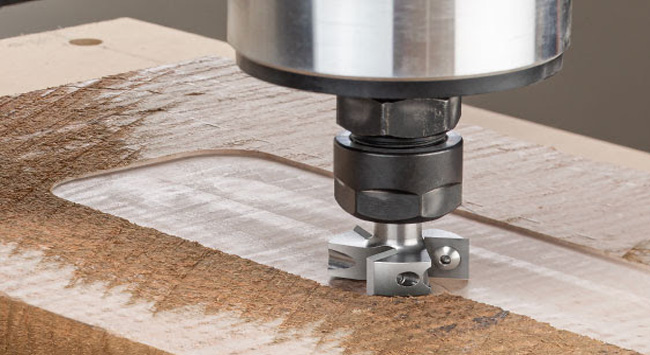 Woodpeckers introduces Ultra∙Shear's new Carbide Insert Spoilboard Bit to end various problems of the woodworkers. This new Carbide Insert Spoilboard Bit uses three 4-edged carbide inserts rather than brazed carbide tips. When the edges dull, one just needs to rotate the inserts 90° and everything ought to fall in place with razor-sharp fresh edges.
"Spoilboard" bits are used in CNCs to surface a waste board and establish a surface parallel to the router carrier. They're also used to flatten rough-sawn slabs and glued-up panels, particularly end-grain glue-ups that can't be run through a planer. The Spoilboard Bits is made in both 1/4 " and 1/2″ so that it can be used in any size router. Even palm routers cab tackle flattening jobs with the efficient 3-flute design.
Replaceable carbide inserts originated in metal working. Among woodworkers, turners first embraced them for lathe tools that never require sharpening. With insert bits, a new set of razor-sharp cutting edges is just a few seconds away.
Woodpeckers has always tried its best to produce useful woodworking tools for woodworkers to overcome different hurdles. Starting from a few routers, the company has grown into a full-fledged manufacturer of router lifts, router fences, measuring and layout tools, and many useful accessories. These Ultra∙Shear's new Carbide Insert Spoilboard Bit reaches a fresh new height as these are the only 1-1/2″ carbide insert spoilboard bits manufactured by Woodpeckers that offer 3 cutters instead of 2 and are available in both 1/4″ and 1/2″ shank. Woodworkers can easily get hold of these as Woodpeckers ships these supper efficient bits directly from the manufacturer to the woodworkers.
Tags: wood, wood and panel, Woodpeckers, woodworking, woodworking and manufacturing, woodworking industry, woodworking USA