Woodpeckers launches new MortiseMatch
&nbspThursday, July 20, 2023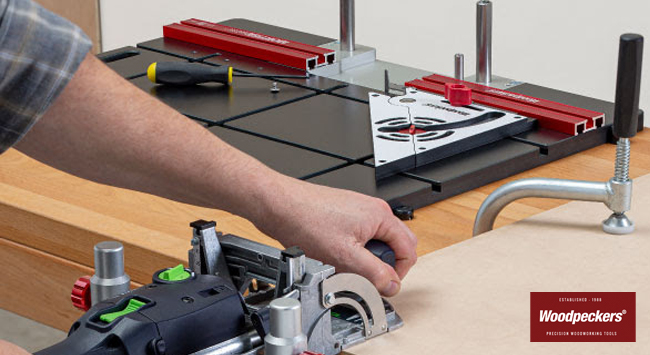 Woodpeckers new MortiseMatch is the latest addition to the woodworking industry that offers more flexibility to the manufacturer. The latest addition successfully turns a hand-held power tool into a precision stationary machine. One needs to bring the work to the Domino that's mounted on to the MortiseMatch for proper processing.
MortiseMatch simplifies working on small stock, keeping a work better aligned to the cutter. It also speeds up the mortising process. In normal, hand-held use, 10mm (a little over 3/8″) is the fixed distance from the base of the Domino to the center of the mortise. The MortiseMatch carriage puts your Domino on a platform that adjusts below the table, taking your minimum center down to 6mm (about 1/4″). This means that one can put Dominos in the center of stock as thin as 1/2″ and reference from a large, flat table surface. Conversely, the carriage can position the mortise 30mm (about 1-3/16″) from the table, allowing one to center on stock 2-3/8″ thick, even with the smaller DF-500 Domino. Throughout that range, the Domino always remains parallel with the table surface and two knobs lock it wherever needed
MortiseMatch has been built to work perfectly with Domino Joiners. The slots in the table are sized perfectly for track clamps. Other track clamps that work with already available Festool tables and tracks, will also work with MortiseMatch. The MortiseMatch carriage simple attaches to the Domino and one need not remove the carriage in the mid of a project. With a single popping out of a screw the assembly comes off and is ready to use with the Domino fence.
MortiseMatch is a perfect match for Domino. It completes the picture, simplifying the joint alignment. It increases the range of material thickness while working with narrow material (square and mitered). It just takes away the weight of the machine off ones' hands during long production runs.
Tags: MortiseMatch, wood, wood and panel, Woodpeckers, woodworking, woodworking and manufacturing, woodworking industry, woodworking USA