Yeti Tools' SmartBench : the smart era of CNC
&nbspMonday, January 9, 2023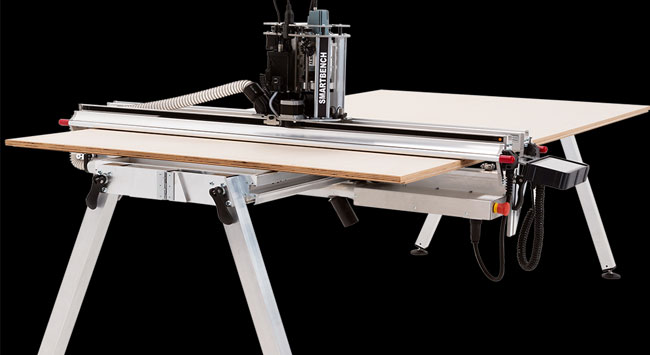 Yeti Tools' SmartBench V1.3 PrecisionPro, a portable, large-format CNC router was recently released, designed especially for anyone who demands more performance and accuracy from a CNC. The PrecisionPro has all the great features of the SmartBench Precision, plus a real-time spindle load display that gives you access to all the cutting information you need while running a job, an additional lead screw to increase rigidity in the Z axis, and a laser X/Y datum that makes setting a job start point quickly and incredibly accurately.
Designed to assist users new to CNC
When used in conjunction with ShapeCutter- a brand-new console-based cutting programme, the user has a simple-to-use yet potent tool at their disposal that enables them to start creating like never before. ShapeCutter offers a walk-through job wizard that makes getting started easy for individuals who are new to CNC.
"It was created for the user who is new to CNC, as well as the more experienced machinist looking for a flatbed router at a low price," explained Ed Sells, technical director at Yeti Tool. "The spindle on each SmartBench also has an overload feature, meaning it will shut down automatically to prevent catastrophic failure on a job." This helps to prevent damage to the SmartBench as well as to expensive stock, he reported.
In order to assist users who had no prior knowledge of CNC routing, Yeti Tools designed the SmartBench software to be similar to using a smartphone. SmartBench's programme doesn't operate on a green screen and doesn't require users to type down intricate operating instructions on a keyboard. Free software updates are also available to all SmartBench subscribers. To improve CNC capabilities, the Yeti Tool technical team is regularly updating the programme, releasing new upgrades on average every 10–12 weeks.
Tags: accuracy, cnc router, portable, PrecisionPro, SmartBench, woodworking, woodworking and manufacturing, woodworking event, woodworking USA, Yeti Tools