Meganite to surprise with antimicrobial surface at Wood Pro Expo
&nbspMonday, September 23, 2019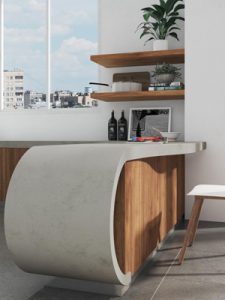 Meganite, known for manufacturing acrylic solid surfaces in USA, will now introduce AcryMed at the upcoming Wood Pro Expo which is scheduled between October 17 and 18 at Spooky Nook Sports complex. AcyMed has antimicrobial protection integrated into the solid surface sheet during production. Meganite mentioned that the new product will help in protecting the surface against deterioration, stains and odor-causing bacteria.
Team Meganite further plans to display four new designs added to its Movement Series at WPE booth #407. Their upcoming products include the following, such as Antique Shell, this has an off-white base that mixes delicate copper and brass veins with greyish particles that Meganite says "creates a calm, serene, and timeless effect." Storm Cloud, an eclectic pattern that begins with a base of soft white, interspersed with veins of gray, "enchanting" translucent pieces, and minuscule dark particles known for combining and creating unique tones inspired by nature. Present day Concrete, generally has an ivory color, according to Meganite spokes person, "gently flows through the strong aesthetic to form a design" which captures  "today's concrete feeling, for today's design." Venaro White, which features soft white marbleized veins that move gently across a smooth, pure white base to create a surface which "epitomizes the elegance of modernity."
Besides these the award winning colors series will be displayed at the Lancaster show. Wood Pro Expo is a local event based in Lancaster, where woodworking professionals, manufacturers and businesses meet and share knowledge. The fair is known for bringing together suppliers and experts for a localized presentation of equipment and supply solutions. WPE has planned programs during the show to improve production process while enhancing knowledge and skill set of the manufacturers. They topics of discussion include, CNC basics, employee recruitment, finishing, lean manufacturing, business management, software, and shop safety – and an expo floor with equipment and supplies geared to small and medium-size shops.
Tags: acrylic solid surfaces, antimicrobial surface, Meganite, USA, Wood Pro Expo, woodworking and manufacturing