Woodworking Manufacturing brings Solution for Social Distancing
&nbspMonday, March 23, 2020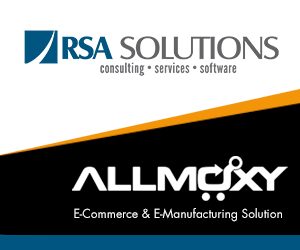 In the wake of the present scenario, RSA Solutions arms the woodworking manufacturing industry to fight crisis in a unique way. RSA Solutions is now representing Allmoxy, a fully customizable, cloud-based, e-commerce and e-manufacturing solution for manufacturers, suppliers, dealers and cabinet shops. The technologically advanced set-up will hence allow the industry to remain connected remotely and functions effectively from virtual system.
Allmoxy subscribers can sell and manage their entire business online, using Allmoxy's cloud-based 3D Web Designer, which is loaded with a subscriber company's products and other buyout products. RSA states that Allmoxy is a contemporary MRP that includes supply chain optimization. It's a low-cost ($250.00/month), alternative that allows unlimited users and is trigger-enabled. Allmoxy also includes CRM.
"With the new, 'stay-at-home' world we're all being asked to consider, the need for being able to conduct business online has now become an urgent matter," says Roger Shaw, RSA Solutions founder and CEO. "With Allmoxy, 'Design to Sale' is a reality with customers 'self-completing' transactions, just like they do at home with Amazon type web sites."
Shaw continues with, "All needed tasks, activities, materials, labour, accounting entries, and shipping instructions are completed, 100% online, with no actual personnel interface, helping companies avoid interruptions in doing business during these challenging times." "Our strength at Allmoxy is solving woodworking companies' problems with a truly dynamic, cloud-based solution," says Brady Lewis, Allmoxy founder. "Allmoxy lets you take orders, fulfil those orders and manage all of the steps in between online. With RSA's excellent sales consultants and management team, we'll now be able to better communicate all that we do to the market."
RSA Solutions, Inc. is based in Lamar, MO, and has consultants located throughout North America who specialize in solving manufacturing problems with innovative software solutions that are based on each customer's unique needs and process-specific challenges. RSA consultative services quickly help companies get on the path to more efficient and profitable manufacturing processes regardless of what they're currently using for software and machinery.
Tags: cloud based software, CoronaVirus Disease (COVID-19), COVID-19, RSA Solutions, Social Distancing, USA, virtual set up, woodworking manufacturing